Salmon Florentine Mac & Cheese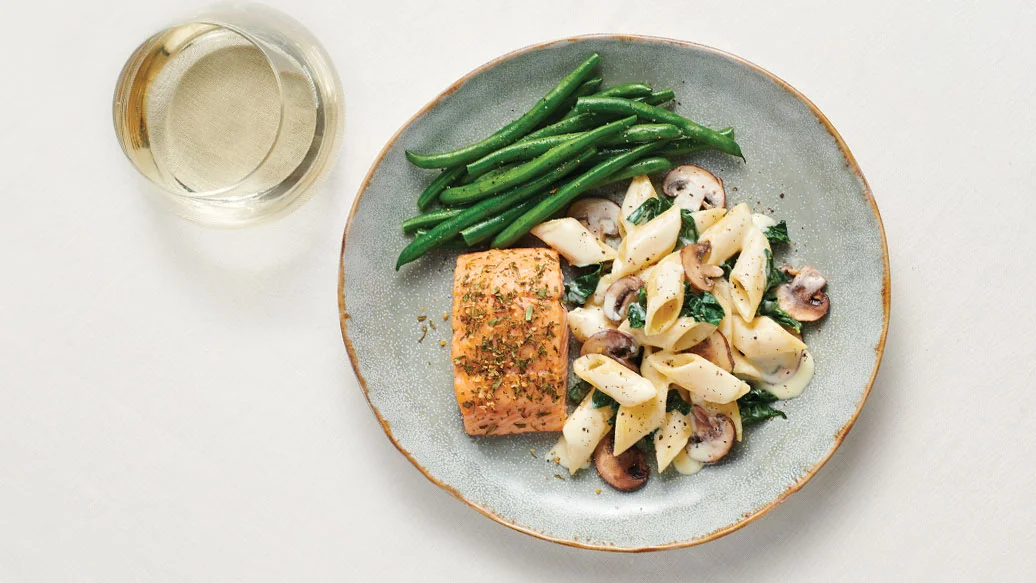 13 min
4 servings
$4.03/serving
Think of this mac & cheese as grown-up sophistication. You've got creamy & comforting pasta with Florentine-style veggies mixed in and a perfectly cooked piece of salmon.  Most of this meal is prepared in the Multipurpose Steamer which means it cooks quickly and more nutrients are retained.  A dish that's wholesome, elevated, and delicious, what more could you need? 
Perfectly Balance Your Plate
Serve with 1 cup steamed veggies.
Ingredients
2 cups bite-sized pasta, your choice
1⁄2 lb (225 g) frozen spinach, thawed
2 cups sliced mushrooms
4 (4.5 oz/130 g each) skinless salmon fillets, about 1" thick
1⁄3 cup milk, your choice
2 tbsp butter, optional
Preparation
Cook pasta in Multipurpose Pot according to package directions. Drain.
Meanwhile, place spinach and mushrooms in Multipurpose Steamer. Cover and microwave on high for 4 min. Place salmon on steamer tray and season with dressing mix; set aside.  
Remove steamer from microwave; place tray with salmon on top. Cover and microwave on high for 3 min. Let rest for 1 min before opening lid. Remove tray and strain any excess liquid from steamer to prevent a runny sauce.  
Add cooked pasted to steamer with seasoning, milk, and butter, if using. Stir to evenly mix.
Divide into 4 bowls and top each bowl with 1 salmon fillet.  
Nutritional Information
Per serving: Calories 450, Fat 12 g (Saturated 3.5 g, Trans 0.2 g), Cholesterol 75 mg, Sodium 440 mg, Carbohydrate 47 g (Fibre 4 g, Sugars 5 g), Protein 36 g.
Tips
A resealable bag of frozen spinach is a great staple to have in your freezer for when you need to add extra veggies to a dish. Spinach is frozen at its peak of freshness and, unlike fresh leaves, it won't wilt before you have a chance to use it all up!